BEST OF 2020
I don't think there's anyone on the planet who wouldn't say 2020 was a TOUGH year. So much was thrown at us, on a personal, political, and health level that I doubt anyone came out unscathed. So, though I don't normally do it, I'm going to give a shout-out to all the things that made my year A LOT more bearable.
Groove of the Year: K-Pop
I've been on the BTS bus since the last year or two, but this year I really branched out to some new bands. So far, I've binged ATEEZ, SuperM, Monsta X and Stray Kids. I'm also only now finding the likes of Got7, Seventeen, and EXO. I've really loving ALL of them!
Though I was gutted to find some of the bands had disbanded or lost members, I'm loving Wonho and Lay's solo work, and I'm SUPER, SUPER excited that SuperM has some of my favourite members collected together, aka, Taemin, Kai and Ten.
Band of the Year: ATEEZ
They have the music, the beat, the all-round skill of dancing, singing, rapping and getting your feet moving. And, I won't lie, they've got Mingi and he's my Bias FOREVER! (He's their rapper with the super-sexy moves, who can go from beast-mode to princess in 2 seconds flat.) You'll see more of them in 2021's Fangirl Friday.
Although, I won't lie, the rest of the band are total bias wreckers. I mean, Seonghwa is utterly FLAWLESS! A sweet personality, a beautiful face, and a voice that slays! A close second to that is the ultimate Ateez duo – the terrible two – Wooyoung and San, known by their ship-name WooSan.
As a band, these guys have style, the moves, the voices…everything! They have some rocking beats, some stunning love songs and some intense hard-hitting dance routines. As people, they are some of the sweetest, nicest, loveliest people on the planet. Watch them in any YouTube video, and I guarantee you'll laugh your ass off and become addicted to their sense of humour and family mentality.
Song of the Year: Say My Name, ATEEZ
Obviously. I can't name them my Band of the Year and not pick one of their songs. Say My Name was the first I'd heard of them, and it was an instant hit. It makes me want to move, every. single. time. (Though, I'll admit, I still can't manage that driving move.
It looks simple, but my body can't move like that.)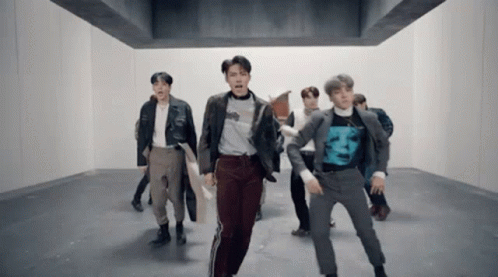 Saying that, I've loved EVERY song of theirs that I've heard, and if we're talking a sweet, slower melody, then I'd have to go for Mist or One Day At A Time, which I believe is their only all-English song so-far.
Album of the Year: ATEEZ
I mean, really? Was this even a surprise? If they get Band and Song of the Year, of course they'd get the Album, too. Specifically, I'm going with Zero: Fever Part 1, which has One Day At A Time, Thanxx, Inception, To the Beat, and Good Lil Boy. But the Treasure Era is incredible, too, containing Wave, Aurora, Horizon, Say My Name, and so many more brilliant songs!
This is under a different heading, because these songs perfectly encapsulated the feel of 2020, for me. They're not my song of the year, but they explain and touch upon what 2020 became for so many of us.
Book of the Year: Can't Touch, by Chara Croft
It's so hard to only choose ONE, but I figured it was only fair. While I read 300+ books in 2020, I forced myself to pick one that had stayed with me. It came late in the year, but Can't Touch, by Chara Croft was a self-rec by the author when I asked for a specific trope in my Book group on FB. I'm so glad they rec'd it, because it not only was a GREAT read, with a whole new element I loved, but it inspired me to write my novel Script Unwritten, which became the Kingston Academy series.
I was in the midst of reading Can't Touch when I realised how I could fix one of my really old WIP's, and was caught by the writing bug. Not only did I fall in love with this book, but it helped me make use of a collection of stories that I'd had written, but didn't know what to do with.
Author of the Year: Koogi (Manga)
This one goes to Koogi, for the serious mind-f*ck of EPIC proportions that is Killing Stalking. I mean, we've got stalking, kidnapping, murder, rape, violence, child abuse and…god knows. Think of a trigger warning and put it on, because it's probably there.
I'm not one for books/stories that contain these elements. It's not my jam, but there has only ever been ONE other story that is this f*d up and wormed it's way into my heart – if you're a regular of my blog, you'll have seen it mentioned one or a thousand times: Protagonist's Antagonist, by G. Streator. If you can stomach it – this is a VISUAL story, as a comic/graphic novel, but most things are implied in dialogue or off-page hints – then this one is for you. You can currently read it on Lezhin Comics.
Speaking of which…
Another discovery of 2020, I have spent…way too much…buying credits for their comics. I even had to make a dedicated section on my Book list for 2020. So, here are my rec's for this place:
Pairing: MF:
Pairing: MM:
Movie of the Year: Joker
Honestly…I didn't watch many movies, this year. While everyone else on the planet was making the most of lockdown/quarantine to binge on TV and movies, I worked through it. I've written about 4 novels and edited a good 10, so I can't say I didn't put it to good use.
However, the best movie I watched in 2020 was Joker, which was released on DVD in February. I'm on the Covid Shielding list, so I wasn't able to leave the house at all this year. I also broke my ankle in November 2019, and wasn't allowed, or able, to leave the house until around April.
TV Show of the Year: M.A.S.H.
For the same reason as above, I didn't watch a lot of new TV shows in 2020. TBH, I mostly avoided TV-series, because I was so busy work-wise. However, I'd started recording M.A.S.H. from the beginning around September 2019 or so, and with my ankle situation and lockdown, my work schedule and life, it took me nearly all year to watch all 11 Seasons, one or two episodes at a time.
But, regardless of when it was released or how old it is, it has stood the test of time and is still as great as it ever was. It was groundbreaking, for how it challenged sexism, homophobia, racism, and both medical and military issues. It managed to do things that have only now become "acceptable" or normalised in TV shows, such as challenging social issues and in the way it challenges them.
BL Drama of the Year: Until We Meet Again (Thai BL, with English subtitles)
This is my first time watching a BL drama and…well, if you thought the first 8 minutes of Up! was a storytelling masterpiece, wait until you see the first 8 minutes of this! I literally bawled my eyes out at 1am, watching this. I know there's a book/manga about it, but I can't get my hands on an English version, so I guess on top of learning Korean, I'm going to have to start learning the Thai language, so I can experience more of these amazing stories.
Until We Meet Again is, at heart, a story about two young men who are lovers and in love with each other in a time when they can't be together. It starts abruptly, with them already drenched from the rain, crying and saying goodbye to each other. Then their father's arrive and disapprove, but they continue to profess their love. For me, the acting of the two main characters was stunning. They literally gazed longingly at each other like there was nothing else they wanted in life. Sadly, by the end of 8 minutes, tragedy strikes and – they end up in the future, reincarnated into a world that is (a tiny bit?) more accepting of gay relationships, and have to find their way back to each other. Hence, the title. Even in the first episode, there is SO MUCH emotion! I had feels from head to toe, what with the beginning, then the flashbacks, and the slow drip of realisation that they'd met before…loved before! Ugh, my heart hurts so much, and I tear up every time I think of that beginning. A TV show has NEVER done that to me before.
But, don't let that put you off. Although it's a BL drama, there are lots of female characters and they are funny as heck (especially Manaow)! I mean, after the first 8 minutes, I had to pause for 10 minutes to regain my emotions (and download the entire soundtrack) but once I got back to it, I was giggling my way through the reincarnated storyline, thanks to the girls who were awesome. Sure, it's a little bit of over-acting, compared to what I'm used to, but when it's hilarious and sweet, I don't care!
Runner Up: Why RU? (Thai BL Drama with English subtitles)
I chose Until We Meet Again as the best of the year, because it had everything – laugh-out-loud humour, a devastatingly brilliant storyline that made me both laugh and cry, and cute BL couples. WinxTeam is my most anticipated couple of 2021, in their sequel story Until We Meet Again: Between Us.
However, I also fell madly in love with Why RU? The humour is a bit slapstick and cringy, but the secondhand embarrassment is SO worth it, for the stupidly incredible romance between FighterxTutor. Those two stole my heart from the first moment they were on screen together. Not only do I love their romance, but Fighter is the tough guy with a chewy soft centre, and Tutor is the smart, goody-good boy who has a seriously flirty side. I loved the dynamic of these two so much that they win my BL Couple of the Year.
~