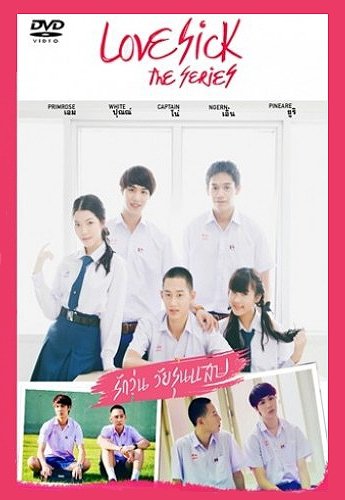 Title : Love Sick, Seasons 1 & 2

Native Title: รักวุ่น วัยรุ่นแสบ

Also Known As: Love Sick The Series , Love Sick – The Series
Main Cast : White Nawat Phumphothingam, Captain Chonlathorn Kongyingyong, Puaen Veerakaarn Nuchanart

Genre : Thai BL (Boy-Love) Drama

Information from MyDramaList
Phun has a girlfriend but his father wants him to date his friend's daughter. Phun's little sister, Pang, is obsessed with boys' love. Phun's father doesn't listen to Phun well but adores his little sister Pang. So Phun needs to convince Pang that he has a boyfriend so that she can help talk their father out of the idea of dating his friend's daughter. Noh is in need of a higher school budget for his school club or he will be in huge trouble. Phun knowing he is able to help Noh out with his problem decides to ask Noh to become his fake boyfriend in exchange for helping Noh raise funds for his Music Club. However, the two 17-years-old high school boys eventually fall in love after the deal brought them closer together. ~~ Adapted from the online Thai gay novel "LOVE SICK: The Chaotic Lives of Blue Shorts Guys" by INDRYTIMES
This is one of those rom-com stories, where it's kinda funny, kinda sweet, a little cringy and filled with second-hand embarrassment for the teenage characters. Due to Captain being 16 years old, at the time of filming, there is literally ONE on-screen kiss for ANY of the gay couples in the entire two seasons. That's a total of 12 episodes in Season 1 and a whopping 36 episodes in Season 2. One on-screen kiss. So, be prepared for that.
However, the story is no less beautiful for that omission, and you have to remember that this is one of the OG BL drama's out there, and broke the mold. It challenged safe sex, gay relationships, coming out in high school, cheating, teens having sex, and explored a whole lot of teenage relationship worries and issues with a real, adult maturity that had these kids talking openly with trusted friends and each other, while working their way through relationship pangs.
I fell MADLY in love with the main character, Noh. his love interest, Phun, was less my cup of tea, but none the less well acted and an interesting character. I also fell MADLY, MADLY in love with the side characters Ohm and Mick, and Win, and Film. They all captured my heart in different ways, for different reasons. Film doesn't get a main part, but I LOVE the actor Gunsmile, and he does a brilliant job of being a supportive friend, comedic relief and a massively interesting and well-portrayed side character. (Gunsmile also plays a similar role, if a bit more strict, in SOTUS, which I encourage you to watch). Ohm and Mick have a completed storyline here, at the end of Season 2, but I wish Win would have had a bit more time on-screen, even if just in a final clip, like they showed for other characters.
When it comes to the girls…well, this was the beginning of BL so I can forgive them a little for the mistakes made. For me, the females didn't get great personalities. They were basically plot points, to urge the story along. Pang was a great character, who managed to find some amazing personal growth, but she got very little screen time in Season 2, where I really felt she could have had a bigger role. Yuri, who plays the best friend and one-time girlfriend to Noh, was a stunning character. She gets a lot of flack for being naive and making rotten choices, but I loved her personal growth and how she matured. Through it all, she was a great friend to Noh, and I utterly LOVED their scenes together in Season 2!
I also really liked that this story had a planned, but unfulfilled Season 3, so they made a spin-off called ReminderS, which revisited Phun and Noh years later, while in university. While it doesn't focus on them as main characters, they have a huge impact and, if you watch Love Sick, I encourage you to watch ReminderS, as well. I absolutely LOVED the clear and evident growth in both characters, while they remained so familiar to their original personalities. Whoever wrote that script clearly remembered their quirks from Love Sick.
P.S. There are BL cuts of the show on YouTube, but I urge you to watch the FULL episodes instead! Please! Because, as tiresome as some of the female characters can be (as this was the baby stage of BL's having strong female roles, and there isn't really much positivity to be found), they have a huge impact on the storyline and you WILL miss the meaning and understanding of some aspects if you watch only the BL cuts.